Prezentujemy zdjęcia gamingowego zestawu komputerowego przygotowanego dla naszego klienta.
Konfiguracja:

PROCESOR: AMD RYZEN 5 2600 6 RDZENI 12 WĄTKÓW 3.4GHZ DO 3.9 TURBO
PŁYTA GŁÓWNA: GIGABYTE X470 AORUS ULTRA GAMING
PAMIĘĆ RAM: KINGSTON 16GB (2x8GB) DDR4 3300MHz 16CL
DYSK 1:     GOODRAM SSD 512GB SSDDPR-CX400-512
DYSK 2:     SEAGATE BARACUDA 1TB 3.5'' ST1000DM010
KARTA GRAFICZNA: GIGABYTE GeForce GTX 1660 Ti WindForce OC 6G
OBUDOWA: BE QUIET! DARK BASE 700 BGW23
ZASILACZ: BE QUIET! STRAIGHT POWER 11 BN282 650W
OS: WINDOWS 10 64BIT (1903)
Poniżej możecie zobaczyć wynik w znanym benchmarku UNIGINE SUPERPOSITION.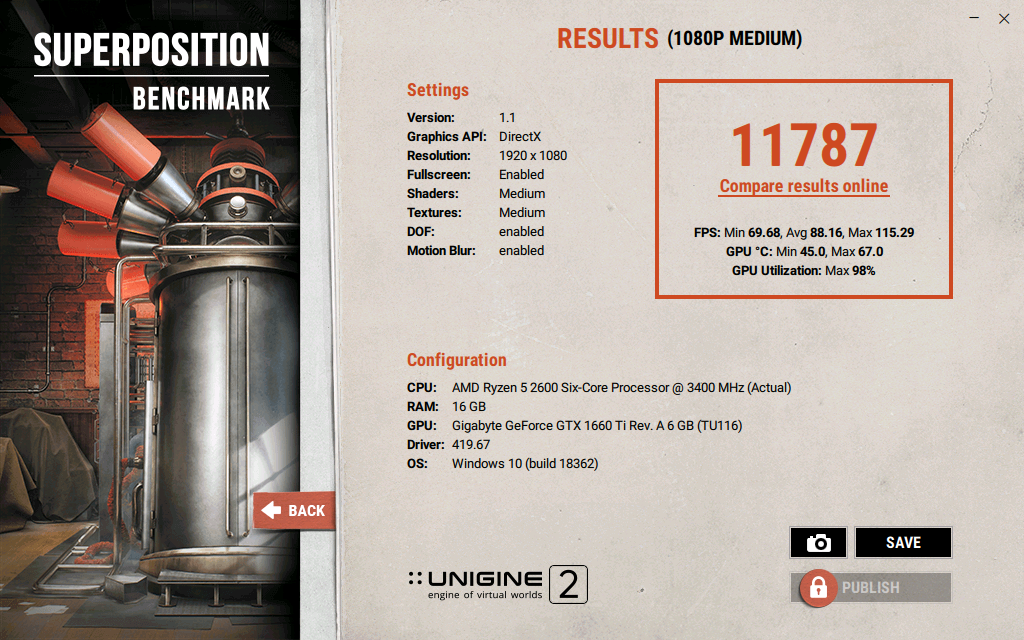 Test w UNIGINE Benchmark Superposition 1.0 (Test komputera gamingowego)

(ustawienia default 1920x1080 MEDIUM) | Fullscreen | Shaders Medium | Textures Medium | DOF Enabled | Motion Blur Enabled


Wynik: 11787

Średni FPS: 88.16